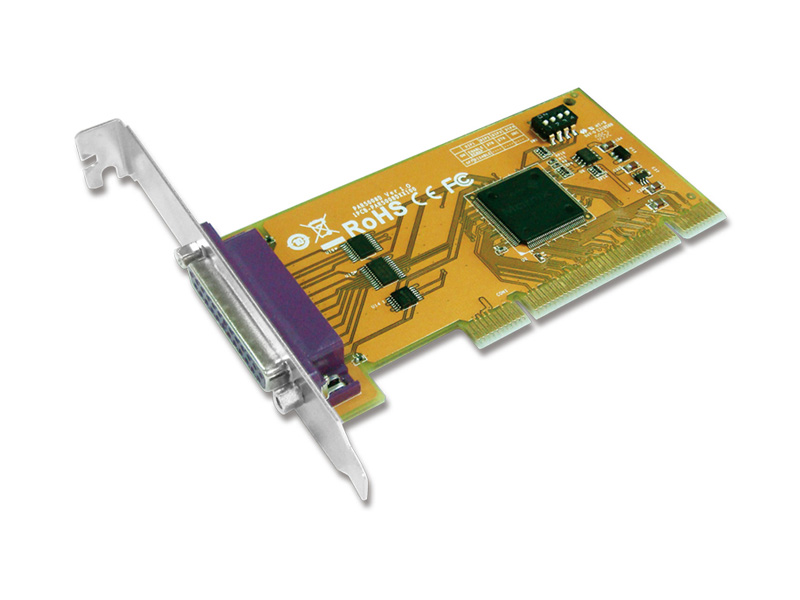 PAR5008D (phased out)
1 埠重定址型 Parallel 並列Universal PCI通信卡
SUNIX PAR5008D PCI Remap Parallel card enables users to expand one additional real ECP/EPP/SPP/BPP communication LPT port on their PC-based system for connecting their parallel devices. Furthermore, this board can be installed as a fully featured I/O mapped parallel port as 278, 378, and 3BC legacy ISA address under Microsoft Windows and DOS operation systems. User can connect software protection dongles, JTAG chip programmers, data acquisition, machine process control, scientific measurement systems, and other parallel devices as well as computer's native parallel port. SUNIX PAR5008D Remap card is designed with SUNIX high performance and realizable parallel connectivity controller, UL7512EQ and as well built with many of SUNIX advanced features and technologies, making it the advanced and high efficient solution for commercial and industrial automation applications.








uplaod date:
Description:
Specifications
Description

Product Description
1-port Remap IEEE1284 Parallel Universal PCI Board

Parallel Communication

Interface
IEEE1284
Controller
SUNIX UL7512EQ
Bus
Universal PCI 64/32bit 3.3V/5V PCI Ver 3.0, 2.3, 2.2, 2.1
No. of Port
1-port
IO
378, 278, 3BC or PCI Plug-n-play Assigned by System
FIFO
16 byte (Hardware)
Signal
SPP/ECP/EPP/BPP ( Auto-switching )
Speed
Maximum 1.8MBps
PCB connector
DB25 Female
Protection
±2KV ESD protection for each signal Human Body Model (HBM)

Driver Support

Windows Client
XP/Vista/7/8/8.1 (X86/X64)
Windows Server
2000 / 2003 / 2008 / 2008 R2 / 2012 / 2012 R2 (X86/X64)
Windows Embedded
Windows CE 4.2/5.0/6.0
XP Embedded / POSReady 2009 / POSReady 7 / Embedded System
Linux
Linux 2.4.x / 2.6.x / 3.x
DOS
DOS

Regulatory Approvals

Hardware
EN55022 Class B, EN55024, EN61000-3-2, EN61000-3-3, FCC Part 15 Class B, RoHS
Software
Microsoft WHQL Windows
• Windows Client: XP/Vista/7/8/8.1 (X86/X64)
• Windows Server: 2000/2003/2008/2008 R2/2012/2012 R2 (X86/X64)

Environment

Operation Temperature
0 to 60°C (32 to 140°F)
Operation Humidity
5 to 95% RH
Storage Temperature
-20 to 85°C (-4 to 185°F)

Dimension

PCB Dimension
120 x 61 mm
Bracket
Standard 121 mm
Bracket Space
1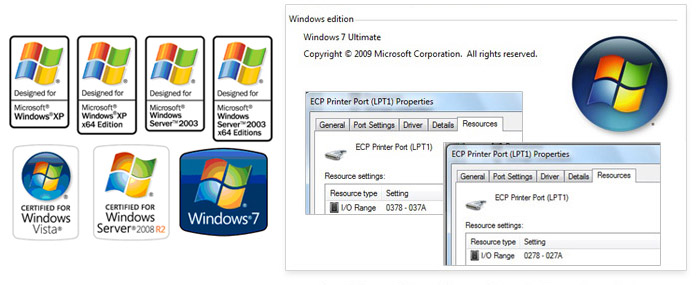 Note:
* ECP / EPP / SPP / BPP modes work under Windows, and Linux driver only supports SPP mode.
Application
Support All Devices Requiring Hardware DB25-Pin Connection

The DB 25-pin connector of this board is suitable for connection with Printer requiring parallel interface, Scanners, LapLink, Zip Drive, Tape Drive, LS-120 Drive, CD-R/RW, EPROM Programmer, Intelligent UPS, Plotter, Bank Passbook Printer, software protection dongles, JTAG chip programmers, data acquisition, machine process control, scientific measurement systems, etc.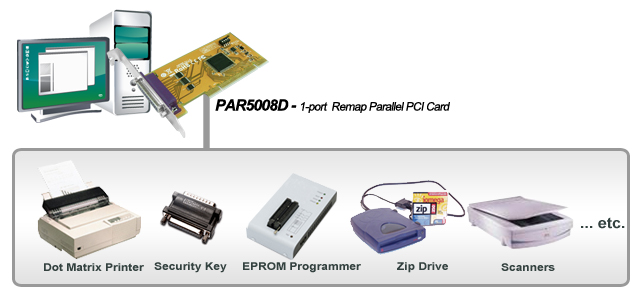 Features
High reliability SUNIX UL7512EQ Parallel controller on-board.
Expand single IEEE1284 compatible DB-25 type Parallel LPT port on system.
Universal PCI compatible with 64/32-bit PCI-X/PCI Bus and 3.3/5V connector key.
Compliance with PCI 33MHz Version 3.0/2.3/2.2/2.1 specification.
Support IEEE 1284-1994 parallel port standard
* ECP (Enhance Capacity Port) / EPP (Enhance Parallel Port)
* SPP (Standard Parallel Port) / BPP (Bi-direction Parallel Port).
Auto-switching between ECP/EPP/SPP/BPP modes without configuration.
Support legacy ISA address (278, 378, 3BC) or standard PCI Plug-n-Play modes.
Install as a fully featured I/O mapped as computer's native parallel LPT port.
Certified by CE, FCC, RoHS, and Microsoft WHQL approval.
Support Microsoft Windows, Linux, and DOS.